Lil' Bo's Petite Sweet Vidalia Onions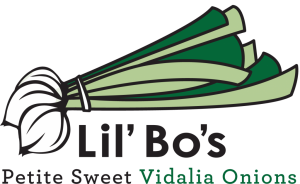 Characterized by their sweet taste and budding stalk, Lil' Bo's Petite Sweet Vidalia Onions are ideal for use in soups and stir fries or as raw slices in a garden salad. Harvested earlier in the season, their flavor is more zesty than a full- grown Vidalia onion. In the heart of Vidalia, Georgia, Herndon Farms brings the specialty item to you from December through April.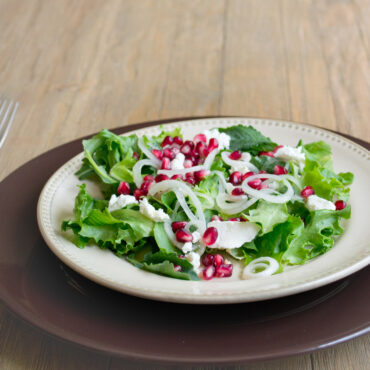 Lil' Bo's Petite Sweet Vidalia Onion Pomegranate Seed and Goat Cheese Salad
Lil' Bo's Petite Sweet Vidalia Onions are wonderful sliced onto any salad. In this recipe they are given a new twist! They're marinated in cider vinegar to add extra flavor and to form the basis of the salad dressing. You will have enough of the marinated onions and salad dressing for 8 individual salads.
Ingredients
3

tbsp

cider vinegar, divided

salt

coarse black pepper

2

Lil' Bo's Petite Sweet Vidalia Onions, trimmed of tops and root end

3

tbps

olive oil

1/4

tsp

granulated sugar

10

ounces

dark salad greens (baby spinach or a mix including baby kale is perfect)

8

ounces

plain soft goat cheese, at room temperature

2

cups

pomegranate seeds
Instructions
In a medium-sized bowl combine 2 tablespoons of the cider vinegar with 1/8 teaspoon of salt and 1/8 teaspoon of pepper. Thinly slice the onions and stir them with the vinegar mixture until they're thoroughly coated. Set aside for 20 minutes. Proceed with the recipe or cover and refrigerate for up to 12 hours.

To the onions add the olive oil, the remaining 1 tablespoon of cider vinegar, a pinch of salt, a pinch of pepper and the sugar. Stir to combine.

Divide the salad greens between 8 medium-sized plates. Use a fork to lift about ¼ cup of the marinated onions out of the liquid and onto each plate. Drizzle each serving with 1 tablespoon of the juices from the bowl. Top each salad with 1 ounce of the goat cheese divided into 4-5 pieces. Finish by sprinkling each salad with 1/8 of a cup of pomegranate seeds.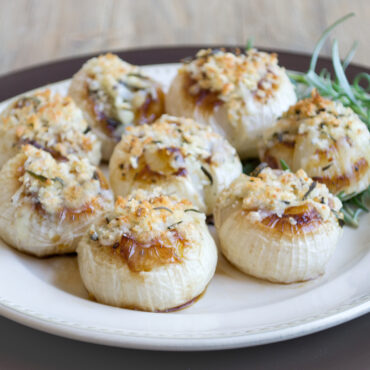 French Roasted Lil' Bo's Petite Sweet Vidalia Onions
Lil' Bo's Petite Sweet Vidalia Onions are lovely when caramelized. In this recipe they are roasted until caramelized on the outside and soft and sweet on the inside. Then they're filled with the flavors of French Onion Soup and broiled. They're a perfect accompaniment to roast beef.
Ingredients
olive oil

8

Lil' Bo's Petite Sweet Vidalia Onions, trimmed of tops and of root ends

salt

black pepper

8

small sprigs of fresh rosemary

1/4

cup

panko, or other dry breadcrumbs

1/3

cup

grated Swiss cheese, like gruyere or emmentaler

1

clove garlic, minced
Instructions
Preheat the oven to 400ºF. Grease a 13" x 9" baking sheet with 1 teaspoon of olive oil. Place the onions top-side-up on the baking sheet. Brush them lightly all over with a bit more of the olive oil. Top each onion with a small pinch of salt and of black pepper. Lay a sprig of rosemary on top of each onion. Bake until the bottoms of the onions are very brown, about 20 minutes.

Remove the onions from the oven and reduce the heat to 300ºF. Push the rosemary sprigs to the side of the pan. Use a metal spatula to scrape under the onions and then flip them over. Put the rosemary sprigs back on top of the onions. Bake until golden on top and soft throughout, about 30 minutes.

Meanwhile, in a small bowl combine the breadcrumbs, cheese, 1/4 teaspoon salt, 1/8 teaspoon pepper, the garlic and 1 teaspoon of olive oil.

When the onions are done baking, preheat the broiler. Discard the rosemary. Flip the onions over. Use a paring knife to cut a 1 inch slot in the top of each onion, being careful to not go all the way across or all the way down. Gently open an onion along the slot and use a small spoon to insert a teaspoon of the breadcrumb filling. Repeat with the remaining onions. Put another teaspoon of filling on top of each onion. Broil the onions 6-8 inches from the heat source, just until the bread crumbs are browned, 3-5 minutes.